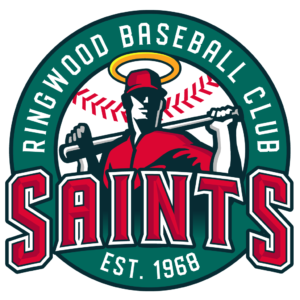 Ringwood
Proclamation Park, Sylvia Grove, Ringwood, 3134
CLUB DivisionS

Melbourne Winter Baseball League. A Grade, A Reserve, A4, D Reserve, U17, U15, U13, Rookie Ball, TBall
CLUB DESCRIPTION

Established in 1968, the Ringwood Saints Baseball Club has committed itself to providing a safe and enjoyable environment for players of all ages, friends and family to enjoy the sport of Baseball. Ringwood Saints is a family club with an emphasis on getting parents involved in their children's activities. Father-son combinations are frequently seen playing on Saturday afternoons, and most of our senior players have played together since their junior playing years.
THE LATEST CLUB PUBLICATIONS

Need to make changes to your club information?
Please let us know!

UPDATE CLUB INFO