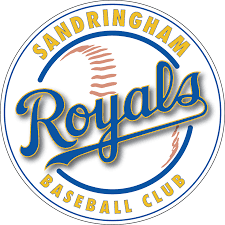 Sandringham
Tulip Street Reserve,Tulip St, Sandringham, 3191
CLUB DivisionS

Division 1 Firsts, Division 1 Seconds, Division 1 Thirds, Division 1 Fourths, Masters 38+ South, Masters 45+, Womens Division 3 South, U18 State, U16 State, U16 Metro East, Junior League, Intermediate league, Little League, Little League Minor
CLUB SECRETARY

secretary@royalsbaseball.com.au
CLUB DESCRIPTION

Sandringham Royals Baseball Club participates in the Victorian Summer Baseball League and in the Dandenong Baseball Association each winter. Established in 1928, we have a range of baseball teams from junior/senior levels, masters and womens teams.
THE LATEST CLUB PUBLICATIONS

Need to make changes to your club information?
Please let us know!

UPDATE CLUB INFO