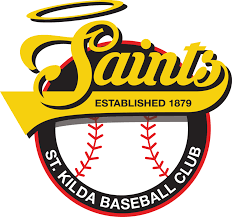 St Kilda
T.O'Halloran Field, Albert Park Reserve, Hockey Dve, St Kilda, 3182
CLUB DivisionS

Division 2 Firsts, Division 2 Seconds, Division 2 Thirds, Division 2 Fourths, Division 4 East, Division 4 South, U16 State, Junior League, Little League
CLUB SECRETARY

stkildabaseball@gmail.com
CLUB DESCRIPTION

Founded in 1879, the St Kilda Baseball Club still stands as the oldest baseball club in Australia. Based in the southern end of Albert Park, the picturesque city backdrop and inner city location adds to the joys of playing for the St Kilda Baseball Club. Combining the traditions of a strong club, sociability and inclusion, we are a friendly and fun oriented group that always welcomes players of all ages from the beginner to the experienced. Feel free to contact the club or just call down to the ground on a weekend to have a chat and get involved in this great game of baseball.
THE LATEST CLUB PUBLICATIONS

Need to make changes to your club information?
Please let us know!

UPDATE CLUB INFO