Alfredton Baseball Club, a winter club in Geelong Baseball Association, has garnered the support of the City of Ballarat to grow women's baseball in the area.
Alfredton Baseball Club will be running a women's only program designed to encourage more women to get on the field and give the sport a try. The new four-week Girls at Bat program, which launches on Sunday, 23 February, will incorporate a socially modified version of baseball for women ages 16 and up. The club has been eager to get more women involved in the sport, and the Girls at Bat program is the perfect opportunity to do so, especially as the program will coincide with This Girl Can week from 23 to 29 March 2020.
Having the support of local council is crucial for community clubs like Alfredton, and the City of Ballarat is pleased to make a difference by providing resource support and promotional materials. "The City of Ballarat aims to create welcoming and inclusive sporting and active recreation places that support participation by all members of the community," City of Ballarat Councillor Amy Johnson said. "We know twice as many Ballarat men than women participate in sport. The City of Ballarat's Active Women and Girls Strategy aims to address the imbalance. It's vital we support the role that physical activity and groups such as Alfredton Baseball Club play towards encouraging more women to participate in sport and physical activity and that we re-shape stereotypes, support gender equity and empower participants."
The City of Ballarat has a Participation Project Officer, Teagan Kenny, who works with local sporting clubs that wish to increase inclusive opportunities for everyone, including women and girls. Kenny has assisted Alfredton Baseball Club with resource support and promotion for programming. "Initiatives like that of Alfredton Baseball Club encourage women and girls to get active and discover great leadership opportunities, both on and off the sporting field, in leadership and governance roles within sport and recreation environments," Cr. Johnson said. "The City of Ballarat's Active Women and Girls Strategy has been a key driver in the shift of sport and physical activity participation and the important role in supporting gender equity, re-shaping stereotypes and empowering women and girls."
Alfredton Baseball Club greatly appreciates the support. Robert McIntosh, Alfredton's scorer, says the club community wanted to emphasize the social aspects of baseball and how it brings people together as friends and teammates. "What better way to boost the social aspects than have active involvement of women playing baseball? When we saw Ballarat Council wanting to promote women in sport, it was time to action the strategy," McIntosh said. "We are hoping to achieve both an increase in numbers and commitment for our men's team, and possibly start a women's team."
With several women's and mixed teams in Geelong Baseball Association, Alfredton Baseball Club is hopeful that they will eventually get a women's team, whether that be this season or next. Running some modified women's events is also a possibility following the Girls at Bat Program.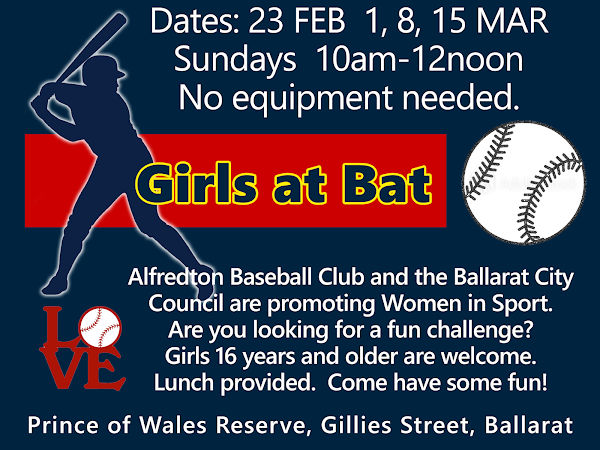 Alfredton Baseball Club urges other clubs to seek council support to bring their ideas to life and work together to achieve a brighter future for baseball. "There are plenty of opportunities out there for increasing the involvement of women and other groups in sport," McIntosh said. "As long as you have your club's resolve to move in that direction, there is plenty of support if you look for it and ask for it."
The tight-knit Alfredton Baseball Club community is looking forward to welcoming more women and girls into the fold and having a positive impact on baseball in Ballarat. "Playing baseball at Alfredton is a fun activity where everyone can have a good time. Although we like to win, winning isn't everything," McIntosh added. "Making sure all have an enjoyable time, feel valued for whatever can be contributed, and hopefully develop physical skills, social contacts, and self-confidence is what it is all about."
To learn more about Alfredton Baseball Club and the Girls at Bat program, please click HERE.
Baseball clubs in Ballarat can contact the City of Ballarat's Participation Project Officer at teagankenny@ballarat.vic.gov.au or on 5320 5500 to discuss potential support options to increase participation.
Find out more about the City of Ballarat's Active Women and Girls Strategy HERE.